Project Taurus SVT






Intro

Note: These pages are graphic intensive.




Lets start this section out by explaining what I am going to do. The 3.0 Ford Taurus is a very nice, very slow car with a very big engine (compared to other sedans). While it is true the car only has 140 horses and 160 torque, it is very modable. I read somewhere that Ford sells like 350,000 Tauruses a year, so there are a plethora of OEM parts, but there are next to none when it comes to performance. That is what I want to change.

The project car is my 1988 Taurus L with the 3.0 liter V6 engine. The car itself was in horrible condition (relatively) when I got it. I bought it off my father for $1000. The paint was old and oxidizing, fading, peeling AND chipping. The engine was bone stock, and neglected. My father would sometimes go 6-7 thousand miles without an oil change. When I got the car seven months ago (February, 1999), the fuel filter was the ORIGINAL FUEL FILTER! It had never been changed! The distributor cap and rotor were original! The plug wires and plugs were only a few months old, and the heater core was shot. The first thing I did to my car was fix it to normal opperating standards. I am now turning this car into the Taurus SVT. The rumors have been around for years, "Will Ford ever make a Taurus SVT?" Well, I am making one for them.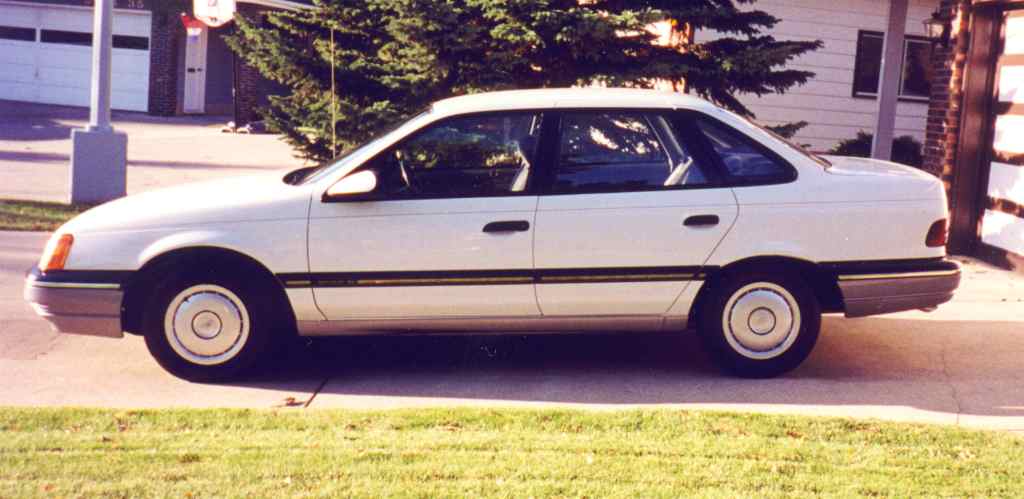 This is a pic of how my Taurus looked stock. Its not my car, but mine was IDENTICAL. Well, maybe a little darker. It was an off-white/gray color.



TUNE UP AND MAINTENANCE


Things Covered:
Fuel Filter Change
Cap + Rotor
Fuel Injectrs
Plugs + Wires
Heater Core Replacement

So I did all the maintenance, and the car ran like new! I was impressed. The car only had 50k miles on it. Not bad. I basically enherited a new car! With the engine running fine, I decided it was time to do something about the looks of the car.




ASTHETIC MODS


Things Covered:
Paintjob
Hubcaps
Stripe Removal
Police Package Grille
SVT Badge
Tinted Taillights
GTS Headlight Covers
Rear Spoiler
Hood Scoop
Neon Red Dome Lite
Glove Box Footrest
Custom Dashboard
TCCA White Gauges
Grant GT Steering Wheel
Security System
Tachometer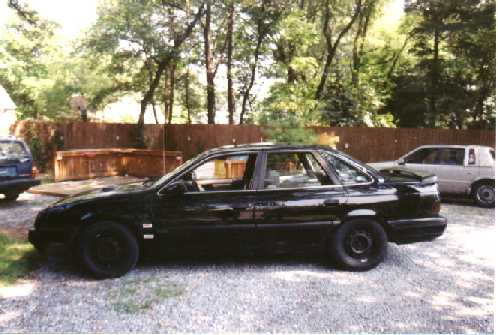 So with the car looking MUCH better now, I moved onto the performance aspect.







ENGINE MODS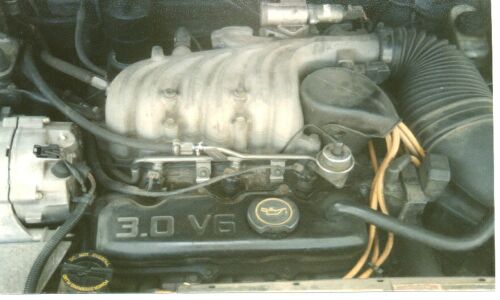 This is the stock 3.0 Vulcan




Things Covered:
Cap + Rotor
Spark Plugs
Plug Wires
K&N With Custom Intake
Hoodscoop
Dual Exhaust
Removing Resonator
Advancing Timing
Accel Ignition Coil
TCCA Intake
Crankcase Ventillator



The car now runs alot faster, cooler, and louder now, so I moved onto the suspension.







SUSPENSION MODS



Things Covered:
Strut Brace
Sticky Tires








PROJECT SVT PROBLEMS





Sept. 14, 1999:
My car is in the shop now. I am getting 2 new headlight cases, mine are bad, and moisture gets in to pop the bulbs. Also, while its there, I'm having a higher flowing fuel pump put in. Mine is worn out. The fuel pump they are putting in is from a 1989 Ford Taurus SHO. I called the parts department to make sure it was compatable. The reason for this is that I want to get a NOS setup, and this is the perfect time for the bigger fuel pump to be installed. The total work on the car is going to cost me $965.00! If I'd have stuck with the normal 3.0 fuel pump, it would be $915.00. Not that much of a difference in price.



Sept. 17, 1999:
I got my car back just in time for the fury of Hurricane Floyd. I had to wait until this morning to take it out (on the way to work) and test it out. The SHO fuel pump did make the car start easier, accelerate smoother (maybe a little faster, not much), and it helps alot at higher speeds. The point of this again, was for my NOS.





Sept. 21, 1999:
I have waited almost a month for my front bumper from Erebuni to come. I called and cancelled the order. They said they didn't have any order on record. Luckilly I wasn't charged. I'll order from someone else next time.



FUTURE MODS